Avenues to Covid – 19 Information
Avenues to Covid – 19 Information
June 18, 2021
Alberta to enter Stage 3 on July 1
Alberta's Open for Summer Plan safely eases restrictions in 3 stages as vaccination targets are reached and hospitalizations decline.
Alberta entered Stage 2 on June 10, and has met the threshold to enter Stage 3 on July 1.
All current restrictions remain in effect until July 1. Continue following public health measures and get vaccinated as soon as possible.
Translated resources
COVID-19 resources are available in عربي, 中文, हिंदी, 한국어, فارسی, ਪੰਜਾਬੀ, Af-Soomaali, Español, Français, Tagalog, Tiếng Việt and اردو
May 26, 2021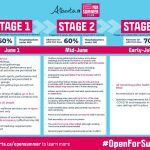 March 1, 2021
Step 2: Hospitalization benchmark – 450 and declining
Libraries
These facilities can now open but must limit capacity to 15 per cent of fire code occupancy, not including staff.
Indoor fitness (no change to outdoor fitness):
Unsupervised low intensity individual and group exercises are now allowed by appointment only.
Mandatory physical distance of three meters is required between participants, including coaches and trainers, at all times, and masks must be worn at all times by trainers and those participating in low-intensity activities.
All indoor fitness must be pre-registered – no drop-ins allowed.
Low-intensity exercises include weightlifting, low-intensity dance classes, yoga, barre and indoor climbing, as well as the low-intensity use of treadmills, ellipticals and related equipment.
High-intensity activities, including running, spin and high-intensity interval training, continue to be allowed only on a one-on-one with a trainer basis, or training with a household and one trainer.
Additional details on the current restrictions is outlined on alberta.ca.
A decision on Step 3 will be made after at least three weeks of evaluation to assess the spread of COVID-19. Metrics based on cases and growth, including variant cases, are being monitored and will also be used to guide any decisions around the need to pause further steps or potentially increase restrictions.
January 29, 2021
Step 1, these steps will be starting Monday, February 8, 2021.
Mandatory restrictions – Provincewide – Effective Feb. 8
Mandatory restrictions – Provincewide – Effective Feb. 8
Restaurants, pubs, bars, lounges and cafes can open for in-person service.
Maximum of 6 people per table; individuals must be from same household or the 2 close contacts for people living alone
Contact information must be collected from one person of the dining party
Liquor service ends at 10 pm
In-person dining must close by 11 pm
No entertainment allowed (e.g., no VLTs, pool tables, live music, etc.)
Mandatory restrictions – Provincewide – Effective Feb. 8
Children's sport and performance activities are permitted if related to school activities, such as physical education classes.
K-12 schools and post-secondary institutions are allowed to use off-site facilities to support curriculum-related educational activities.
Mandatory restrictions – Provincewide – Effective Feb. 8
Group or team sports not permitted
No sports games, competitions, team practice, league play or group exercise of any kind is allowed.
One-on-one training is permitted
Only one-on-one training is permitted for indoor fitness activities (e.g. fitness in dance studios, training figure skating on ice, one-on-one lessons).
Sessions have to be scheduled or by appointment. No drop-in or groups allowed.
Safety requirements:
One-on-one sessions cannot interact with others and there must be a minimum of 3 metres distance between sessions in the same facility.
Trainers must be professional, certified and/or paid trainers who are providing active instruction and correction. Passive supervision of a physical activity is not considered training.
Trainers should remain masked during the session; clients are not required to wear a mask while exercising
More than one trainer and client 'pair' are allowed into the facility, studio, rink, court, pool, ice surface, etc. so long as:

Each trainer and client stays 3 metres away from all other trainers and clients at all times, including in entryways and exits.
Each trainer can only interact with their assigned client, and each client can only interact with their assigned trainer.
No interaction between clients or between trainers is allowed.
No 'cycling through' multiple trainers as in circuit training
November 24, 2020
Currently, we are under a STATE OF PUBLIC HEALTH EMERGENCY IN ALBERTA.
Unless otherwise stated, the following mandatory restrictions come into effect Nov. 24 and will be in place for at least three weeks.
1. See list of communities under enhanced status (purple areas)
2. See list of affected communities in the Calgary area and the Edmonton area.

| Measures | All Alberta | Enhanced (purple) Areas1 | Calgary Area2 | Edmonton Area2 |
| --- | --- | --- | --- | --- |
| No indoor social gatherings in any setting | Yes | Yes | Yes | Yes |
| Outdoor gatherings max of 10 | Yes | Yes | Yes | Yes |
| Wedding and funeral services max of 10, no receptions permitted | Yes | Yes | Yes | Yes |
| No festivals or events | Yes | Yes | Yes | Yes |
| Grades 7-12 at-home learning Nov 30-Jan 11 | Yes | Yes | Yes | Yes |
| ECS-Grade 6 at-home learning after break until Jan 11 | Yes | Yes | Yes | Yes |
| Working from home should be considered, where possible | Yes | Yes | Yes | Yes |
| Places of worship at 1/3 normal attendance with mandatory masking | No | Yes | Yes | Yes |
| Restricted access to some businesses starting Nov. 27 | No | Yes | Yes | Yes |
| Mandatory masks for indoor workplaces | No | No | Yes | Yes |
https://www.alberta.ca/enhanced-public-health-measures.aspx
November 12, 2020
New public health measures have been brought in for the City of Grande Prairie by the provincial government, as cases of COVID-19 continue to climb across Alberta. https://everythinggp.com/2020/11/12/new-public-health-measures-announced-for-city-of-grande-prairie/
Community-specific mandatory measures
Ban on indoor group fitness classes and team sport activities (Nov 13-27).
Ban on group performance activities: singing, dancing and theatre (Nov 13-27).
Restaurants, bars, lounges and pubs must stop liquor sales by 10pm and close by 11pm – applies to Class A, B or C licences (Nov 13-27).
15-person limit on social and family gatherings – indoors and outdoors – where people are mixing and mingling.
50-person limit on indoor and outdoor wedding ceremonies and funeral services.
Faith-based gatherings limited to 1/3 capacity at one time.
Voluntary measures
No social gatherings inside your home or outside of your community. Instead, socialize outdoors or in structured settings, like restaurants or other business that are subject to legal limits and take steps to prevent transmission.
Limit of 3 cohorts: your core household, your school, and one other sport or social cohort. Young children who attend child care can be part of 4 cohorts.
Wear a mask in all indoor work settings, except when alone in a workspace or an appropriate barrier is in place.
Employers in office settings should implement measures to reduce the number of employees in the workplace at one time.
October 26, 2020
MANDATORY FACE COVERINGS (MASKS) NOW IN EFFECT
The City of Grande Prairie's Mandatory Face Coverings (Masks) Bylaw C-1426 trigger point has been reached, meaning that face coverings and masks in indoor spaces are now required within the City as of October 26, 2020.
The bylaw is in effect for indoor, enclosed or substantially enclosed public places. It was triggered by a combined total active case number of over 100 within the City and County.
Schools, hospitals, or other health care facilities are excluded from the bylaw and should follow guidelines provided by provincial authorities. In addition, people working in buildings only accessible to employees, such as private offices and boardrooms, as well as public vehicle operators separated by physical barriers or physical distancing are not required to wear a face covering or mask.
Businesses are now required to display a sign created by the City in a location that is visible to a person entering the public place or vehicle when the trigger point is reached. Information on where to pick up a sign, or a digital download is available on the "Non-Medical Face Masks" section on cityofgp.com/covid19.
City enforcement is taking an education first approach to encourage compliance. If a resident or business remains uncompliant, the bylaw currently lists a penalty for failure to wear a face covering/mask when required is $100 and for failure to display prescribed signage is $200.
Face coverings or masks will no longer be required once the City and County fall below the trigger point for 14 calendar days, at which point the City will send out follow-up notification to the community.
The City of Grande Prairie thanks all residents for their diligence, understanding, and cooperation during the COVID-19 pandemic. Using face coverings or masks is an additional layer of protection against the spread of COVID-19 and will help protect the health of the public and the economy.
For information on the bylaw including a list of exemptions and guidelines for how to safely wear masks, visit "Non-Medical Face Masks" section on cityofgp.com/covid19.
About the Bylaw
The Mandatory Face Coverings (Masks) Bylaw was passed by City Council on September 8, 2020. Trigger points identified with the bylaw are a combined total active case number of 100 within the City and County, or a provincial relaunch status of "enhanced" in either municipality. The bylaw is effective until January 1, 2021, unless otherwise directed by Council.
October 7, 2020
New programs replacing CERB, may now be applied for.
The Canada Recovery Benefit will be available October 12/20
CRSB (Canada Recovery Sickness Benefit)
CRCB (Canada Recovery Care-giving Benefit)
August 19, 2020
August 21 and 27 | Canada Emergency Wage Subsidy Question And Answer Teleconference, With The CRA
The Government of Canada recently implemented changes to adapt the Canada Emergency Wage Subsidy to protect jobs and promote growth.
The CRA will shortly publish a number of online resources, including updated frequently asked questions, to help eligible employers understand how to apply and take advantage of this fiscal measure. To complement these resources, the CRA will host a series of interactive question and answer teleconference sessions for eligible employers and stakeholder organizations.  You are invited to attend one.
June 9, 2020
Relaunch…..Stage 2 starting June 12, 2020
May 12, 2020
Relaunch….
Yesterday, the Alberta Government launched their new website for the guidance and supports for businesses affected by Covid-19 and to begin the relaunch of the economy as early as this Thursday.
Additionally, if you need the step by step process for the Emergency Wage Subsidy program (CEWS),  this is the link.
May 8, 2020
This is the link to the Retail Council of Canada.    Covid-19 Recovery Planning
https://www.retailcouncil.org/coronavirus-info-for-retailers/covid-19-recovery-planning/
Quick Notes:
* Today's Federal announcement addressed the Wage Subsidy Program. It will continue past June.  More details will be released next week.
* We are still waiting on details for the Rental Assistance Program.
* Details for the Culture, Arts and Sports Plan will come out shortly.  This is the previously announced 500 million dollar wage and funding support program through Heritage Canada.
* The Federal Government has set up an Industry Strategy Council to research how Covid-19 is affecting specific sectors and how to support these sectors.
May 4, 2020
GPREP (Grande Prairie Regional Emergency Partnership) has a team of 5 that are out visiting all essential businesses and ones that are going to be opening soon if all goes as planned. This Business Ambassador program was formed to help assist you with procedures and priorities to deal with Covid – 19.
This is the media release about the Business Ambassador program
https://www.gprep.ca/blog/gprep-aligns-with-business-resiliency-taskforce-to-unify-regional-economic-response-to-covid-19/.
April 30, 2020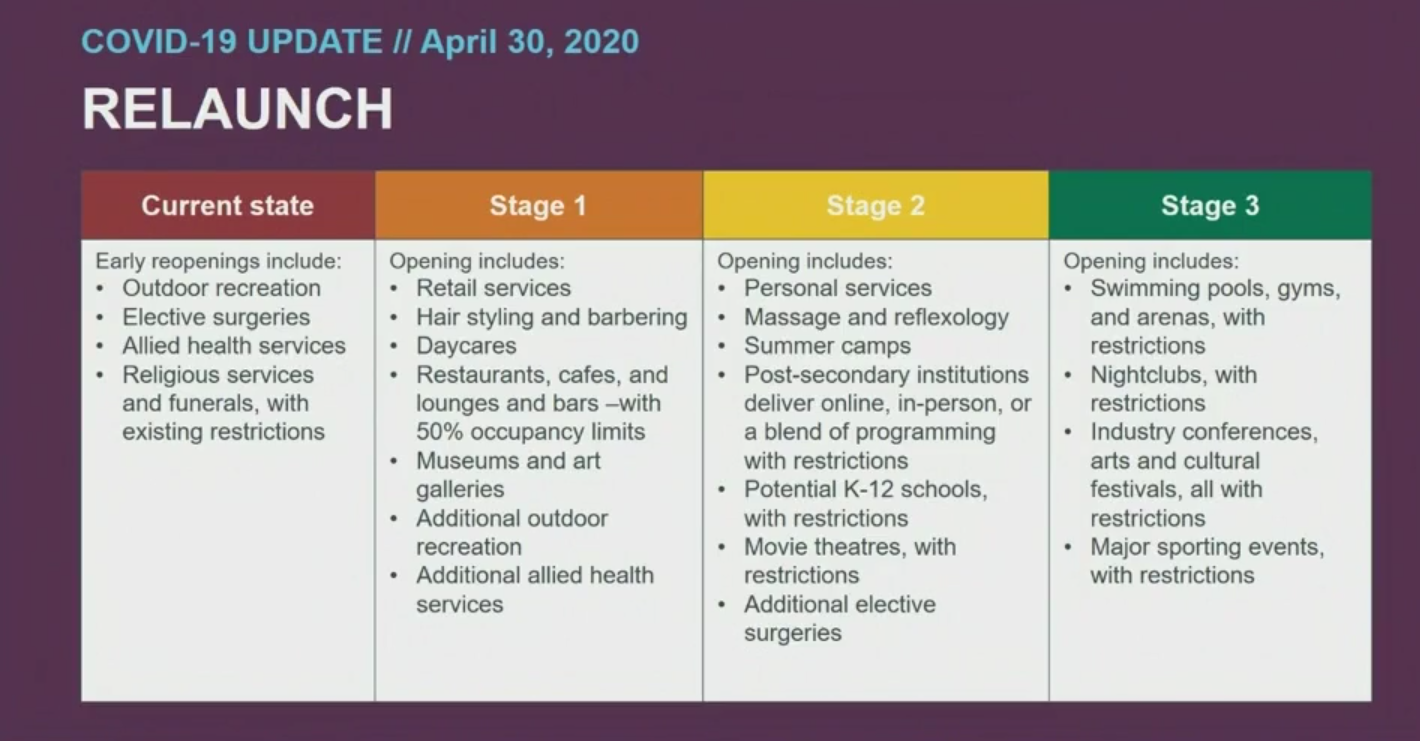 Premier Jason Kenney just announced the Relaunch plan for Alberta.
Stage 1 potentially will start as soon as May 14, 2020  (unless Covid-19 illnesses change in current status or projected numbers).
Stage 1:
As shown above.
Additionally,
* Dental offices may open May 4th
* Booking for campgrounds to open May 14th
* Provincial Parks, boat launches and golf courses as soon as this weekend.
There will be safety measures, rules and provisions in place for each of these.
FULL DOCUMENT HERE.
April 29, 2020
Canadian Chamber/Statcan Survey,
" The Canadian Survey on Business Conditions, a joint effort between Statistics Canada and the Canadian Chamber of Commerce, provides the most detailed insight yet into the impact of COVID-19 on Canadian businesses. The survey is Canada's first comprehensive view into how our businesses are managing as the COVID-19 shutdown continues. In all, more than 13,000 businesses participated – thank you!"
Please see the attached url for the Canadian Survey on  Business Conditions results.
April 28, 2020
As of April 27, 2020, Canada Emergency Wage Subsidy is now open for applications. These applications can be made through "My Business Account."
Also, through the CRA website with your access code or "Represent a Client" for your tax representative. Applications will be processed on May 4, 2020.
https://www.canadianbusinessresiliencenetwork.ca/news-and-insights/2020/04/23/step-by-step-guide-get-ready-to-apply-for-the-canada-emergency-wage-subsidy-cews/
Covid-19 Business Resiliency ……..Check out the Business Advisory Services Voucher Program.
https://www.grandeprairiechamber.com/covid-19-business-resiliency/
GPREP……..Mental Health Crisis Resources
Please use the Text4Hope tool available.  This is supporting Mental Health & Wellness in a Time of Stress & Isolation
Text: COVID19HOPE to 393939 to subscribe.
April 24, 2020
This is the announcement that so many businesses have been waiting for!
The Federal Government has today announced the Canada Emergency Commercial Rent Assistance Program.
If you qualify for this program, rent costs will be reduced by 75% for the months of April, May and June for small and medium sized businesses.
Some of the details are:
*    50% will be covered by the Government.
*    25% will be covered by the Landlord.
*    25% will be paid by the Business owner.
To qualify for this program you must pay 50K or less in monthly rental payments and your revenue must have dropped by 70% due to Covid – 19.
More details from CTV News.
April 23, 2020
Link to the Canada Emergency Wage Subsidy Calculator
https://www.canada.ca/en/revenue-agency/services/subsidy/emergency-wage-subsidy/cews-who-eligible-employer.html
Covid – 19 Business Resources
https://www.canada.ca/en/department-finance/economic-response-plan.html#businesses
April 21, 2020
Today, Prime Minister Trudeau announced that you will be able to use a new online tool for calculating the Wage Subsidy Program available to you.  This online calculator will be on the CRA website as of today.
Additionally, you will be able to send in your applications for this program on Monday, April 27, 2020.  More details to follow this week on the process of applying.
Note:  This subsidy program will pay up to $847.00/week/employee.
April 16, 2020
The Canada Emergency Business Account.
This provides  interest-free loans of up to $40 000 for eligible small businesses to cover operating costs.
Repayment on or before December 31, 2022 will result in loan forgiveness of 25% (up to $ 10K).
Prior to today, to qualify you would need to demonstrate that you paid between 50K – 1 million in total payroll in 2019.
Today, the Prime Minister announced that the criteria to qualify has changed.
Now it will be 20K – 1.5 million in total payroll in 2019.
Please note: at this point there is no information on business owners who take dividends, but it is on their radar.
Information will be coming out shortly for a RENTAL ASSISTANCE PROGRAM for small business.  
Please click on this site for the information on the The Canada Emergency Wage Subsidy. (CEWS)
https://www.canada.ca/en/department-finance/economic-response-plan/wage-subsidy.html
You will need to apply through the Canada Revenue Agency's My Business Account portal.  Details will be out shortly.
For all the supports for businesses, please see this website.
https://www.alberta.ca/covid-19-financial-support-for-businesses-and-organizations.aspx
April 14, 2020
Business Link is now available to provide guidance and help to small businesses learn about and connect to available COVID-19 supports based on their unique business needs.
The platform is offering free programming through June, including one to-one guidance and expert sessions with specialists to help small businesses survive this extremely difficult period. Programming includes webinars on a variety of topics, online events, and free expert sessions with lawyers, accountants, marketing specialists, e-commerce specialists and more. To access this service contact 1-800-272-9675 or visit www.businesslink.ca. Programs like Business Link will be an important resource to help small businesses recover from the COVID-19 pandemic.
April 8, 2020…….updated April 9, 2020
Yesterday's Federal announcement regarding changes in the current 75% wage subsidy program for businesses:
Period 1 is March 15 – April 11. The sales reference period is year over year  but if this is not possible, you can use the average sales for January and February 2020 as reference points.
30% reduction in sales was the target number for the first period — Now, 15% reduction in sales in this first period, from March 15 – April 11.
Period 2,  April 12 – May 9/20 and the 3rd period is May 10 – June 6/20.  You can use year to year numbers as reference points or the same average of Jan. & Feb. numbers. Period 2 and 3 need to show a 30% reduction in sales.
The wage subsidy is retroactive to March 15, 2020.
Up to $ 847.00/week per employee or 75% of the employee's pre-crisis weekly wage, whichever is less.
Applications are not yet available online as this is currently not passed through legislation.  Hopefully over this weekend?
Please see additional information through these sites:
www.alberta.ca/coronavirus-info-for-albertans.aspx
www.canada.ca/en/department-finance/economic-response-plan.html
Please use the Text4Hope tool available.  This is supporting Mental Health & Wellness in a Time of Stress & Isolation
Text: COVID19HOPE to 393939 to subscribe.
April 6, 2020
Today is the start date for the application of the CERB (Canada Emergency Response Benefit)  benefit through the Federal Government.
Who is eligible? Anyone who has lost their employment income or self-employment income because they have stopped working due to COVID-19 is eligible for CERB. The benefit is available to all workers who are Canadian residents, at least 15 years old, who have stopped working because of COVID-19.
After you apply, you should get your payment in 3 business days if you signed up for direct deposit. If you haven't, you should get it in about 10 business days.
It provides a payment of $2,000 for a 4-week period (the same as $500 a week) for up to 16 weeks.
Please see requirements online prior to applying, such as best day to apply – month of your birth date.
There are two ways to apply:
Online with CRA My Account
Over the phone with an automated phone service
https://www.canada.ca/en/revenue-agency/services/benefits/apply-for-cerb-with-cra.html
Phone # 1 800 959-2019 or 1 800 959-2041
Government of Canada site
https://www.canada.ca/en/public-health/services/diseases/2019-novel-coronavirus-infection.html
April 1, 2020
This is the statement from Provincial Emergency Operations Centre:
Although non-essential businesses are to remain closed to public access, business owners and employees are able to continue to work out of their business facility to take care of crucial tasks that cannot be done remotely, to retrieve necessary materials or documents, or for the purpose of facilitating the fulfillment of online or mobile ordering, as long as proper precautionary measures have been put in place such as physical distancing, frequent hand washing, and ensuring hand sanitizer is readily available.
This will be coming out in a media release by 4 o'clock.
Also, with the wage support program now increased to 75%, some of you may wish to hire back some of your employees.  This is permissible as long as AHS proper precautions are in place as listed above. (Please note the remaining 25% in wages is to be paid by the business owner.)
And as noted in the https://www.alberta.ca/coronavirus-info-for-albertans.aspx and precautionary measures are followed, curbside and deliveries are acceptable.
Please use the Text4Hope tool available.  This is supporting Mental Health & Wellness in a Time of Stress & Isolation
Text: COVID19HOPE to 393939 to subscribe.
March 30, 2020
Alberta Health Services
https://www.alberta.ca/coronavirus-info-for-albertans.aspx
List of essential services
https://www.alberta.ca/essential-services.aspx
March 27, 2020
Good news from our Federal Government this morning.  Small business will receive financial assistance to get through these trying times.  Please see government websites for upcoming information on this much needed financial assistance. Your banking providers will also assist you in these measures.
Please note: Online scamming activities are a very real and threatening risk to your business during this time of uncertainty.   Please be vigilant in what personal information you are sending through online mediums. Here is a link for information  to guard you against this potential activity.
https://auma.ca/news/cyber-security-remain-vigilant-against-online-scammers
March 26, 2020
Covid-19 Business Resiliency
The Chamber of Commerce along with the City of Grande Prairie and County of Grande Prairie Economic Development Departments are working together to provide a unified approach to supporting local businesses during these unprecedented times.  Many businesses may be experiencing difficult choices or financial hardship during the Covid-19 crisis and below is a list of resources to help you navigate various levels of support. Please check back often as we update this page and provide additional resources, including locally hosted webinars.
Please check out the Chamber of Commerce website for webinars to attend.
Provincial
COVID-19 support for employers and employees
https://www.alberta.ca/covid-19-support-for-employers.aspx
Federal
Canada's COVID-19 Economic Response Plan: Support for Canadians and Businesses
https://www.canada.ca/en/department-finance/news/2020/03/canadas-covid-19-economic-response-plan-support-for-canadians-and-businesses.html
COVID-19 Small Business Help Centre – CFIB
https://www.cfib-fcei.ca/en/small-business-resources-dealing-covid-19#govt
Finding the way forward: Guiding businesses through coronavirus (COVID-19) – Grant Thornton
https://www.grantthornton.ca/insights/coronavirus-covid-19/finding-the-way-forward-guiding-businesses-through-coronavirus-COVID-19/
March 25, 2020
Here is a short but very important survey regarding the impacts of Covid-19 and your business.
Please take the time to fill this out as this will be extremely helpful in gaining information on emerging business needs and advocacy pathways towards government. This will be a full snapshot of where we stand in this region as well as other regions.
This survey is now on the GP Chamber of Commerce website as well as the Downtown Association website.  No membership is required for this gathering of information.
Note: You most likely will receive several requests from different partners to fill out the survey. We are all working together.
March 20, 2020
Here is some additional information for businesses.
Government of Canada
The federal government's Resources for Canadian Business page provides one-stop info for business and employees.
https://www.canada.ca/en/services/business/maintaingrowimprovebusiness/resources-for-canadian-businesses.html
Corporate Income Tax
• The Alberta government has deferred corporate income tax balances and installment payments from March 19 until August 31, 2020.
https://open.alberta.ca/dataset/corporate-income-tax-special-notice-vol-5-no-56-deferral-of-corporate-income-tax-payments
Business Loans and Credit
• The federal government has announced that they will increase the credit available to small, medium, and large Canadian businesses. A new Business Credit Availability Program will provide more than $10 billion of additional support to businesses experiencing cash flow challenges through the Business Development Bank of Canada and Export Development Canada.
https://www.bdc.ca/en/about/mediaroom/news_releases/pages/bdc-announces-additional-measures-provide-relief-canadian-entrepreneurs.aspx
•The federal government announced that the Office of the Superintendent of Financial Institutions (OSFI) will lower the Domestic Stability Buffer by 1.25% of risk-weighted assets, effective immediately. This action will allow Canada's large banks to inject $300 billion of additional lending in to the economy.
• ATB Financial small business customers can apply for a payment deferral on loans and lines of credit for up to 6 months.
• ATB Financial small business customers can access additional working capital.
• ATB Financial agriculture and other business customers can access support on a one-on-one basis.
https://www.atb.com/resources/alerts/covid-19/
• Customers of other banks should check with their bank provider, as Canada's large banks have confirmed support, but have not yet released details.
https://www.canada.ca/en/department-finance/economic-response-plan.html
With all that is going on, we as a core community have come together to get through this.
Tax and Levy relief measures for Grande Prairie have not yet been confirmed.
Non-profits
• The Alberta government has said that charitable and non-profit groups will immediately receive an additional $60 million to support seniors and other vulnerable populations disproportionately affected by COVID-19.
Wage Subsidies
• The federal government will provide eligible small businesses a 10 per cent wage subsidy for the next 90 days, up to a maximum of $1,375 per employee and $25,000 per employer.
https://www.canada.ca/en/department-finance/economic-response-plan.html#business
Help for employees
Government of Canada
• The federal government's Resources for Canadian Business page provides one-stop info for business and employees.
https://www.canada.ca/en/services/business/maintaingrowimprovebusiness/resources-for-canadian-businesses.html
Helpful Resources
March 18, 2020
Government of Canada
https://www.canada.ca/en/public-health/services/diseases/2019-novel-coronavirus-infection.html
City of Grande Prairie
https://www.cityofgp.com/culture-community/news-events/covid-19-response
Alberta Chamber of Commerce
https://myemail.constantcontact.com/ACC-response-to-COVID-19-UPDATED.html?soid=1105984887396&aid=4fv7fVDco7o
Grande Prairie Chamber of Commerce
http://www.grandeprairiechamber.com/
Resources for Small Businesses Affected by Covid-19
https://businesslink.ca/covid-19